I finally finished my album, now it's time to finish the artwork for this new CD...I am thinking this pic should be the cover :)
As you know I've been working on my latest project rearranging and recording 'A Life Of Love' in both French and Russian languages. This song 'Une Vie D'amour' is best known from the 1981 movie 'Teheran 43' performed by Charles Aznavour and Mireille Mathieu. The piano and string section arrangements are very different from the original track, I wanted to make it more personal…
When I perform this song personally I feel very touched by the story of this kind of love and feel empowered because I can express my own feeling through this song, my own thoughts are kind of intertwined with those lyrics and beautiful melodies written by Georges Garvarentz and Charles Aznavour. And now you can download my interpretation of this beautiful song here on this website, enjoy :)
Love,
SK

07.07.09 'Elegia' by Arno Babajanian

Thank you everybody for your emails and feedback on youtube and myspace after I uploaded my video performing Aram Babajanian's 'Elegia'. For all of you who asked me about the sheet music for this piece I scanned my old, wrinkled sheet music so now you can download it right here =)
Cheers,
SK

04.23.09 - The Lonely Road

Dear Friends,
Our brain is one of the most complex and fascinating parts of the human body. Philosophers like Confucius and Aristotle and many other great thinkers in history have given us treasured gems from their brains. Inventors like Edison, Bell, Washington Carver and others have shared the intricacies of their brain and have used it to create amazing inventions. Poets, playwrights and writers, Shakespeare, Browning, Eliot and Frost have given us insight to the creative thoughts in their brains. And musicians, too many to name have also shared many a story put to song.
Those people who are alone by choice usually prefer their own company and can feel more liberated with their thoughts and ideas, many artists – composers, painters, writers, performers chose to be alone in order to concentrate and be more creative. Sometimes the very closest, most loved person can be destructive and interfere with your work. I think right now I sound like my grandpa but I am talking from my own experiences. And many people want to be alone because of failed relationships and need to have some space for themselves or others feel free, independent. The brain itself travels on a lonely road of sorts. We wake up in the morning with our own thoughts and we go to sleep at night and dream our own thoughts.
When we endure hardships or challenges in life, the lonely road seems lonelier. Our hearts feel alone when we are not in love romantically, but yet, we have love all around us from family to friends. Our souls feel alone when we feel misunderstood or feel as if no matter how we express ourselves or communicate our thoughts – that no one seems to get all the complexities of who we are.
I don't think certain people are 'chos en' or destined to be alone. You make your own destiny, you chose whether or not you w ant to be alone or surround yourself with friends, family, coworkers, etc… many people want to remain alone and don't feel lonely at all and others will be very lonely till they find that special person.
Our spirits feel lonely when there is stagnancy…. Status quo, actually, for those of us who are very accustomed to life's rollercoaster. It seems when there is not intense joy or drama that life seems like it is standing still and when it is standing still, sometimes it can feel lonely like nothing is happening, when in truth, things are happening all around us, we just don't realize it.
When I started to write this song and record with the piano accompaniment it already sounded kind of complete but later that day I added string arrangements which gave more movie score vibe to it complementing, justifying the emotional aspect and the deep character of this song. I wrote the LONELY ROAD because there is a part of me that understands everyone feels lonely at times and everyone has their own lonely road. I also wrote it because deep down there is a part of me that knows I am on this road alone and to be truly understood and comprehended I must travel this road alone. Even if I am not alone, I know that I am alone in most of my creative thought process – even if it is shared by people who understand me most. And this is why music is so much a part of who I am – I feel I can express and convey all my thoughts and feelings into one full place.
Those who can relate, will feel this in my music. Those who are still developing their own ideas about where they are on their Lonely Road may find it helpful along the journey to get them to this place. And those who have come out the other side of the lonely road will feel accomplished at how far they have come in life to understand why the lonely road is somewhat necessary for all of us to experience in order to grow as people.
I hope that The Lonely Road is something that touches you, that resonates with who you are and that somehow just hearing it, you won't feel alone on this lonely road. I really hope you enjoy this new video and share it with all your friends and loved ones.
All the best,
Sonya
01.09.09 - The Making of "Sabre Dance" Video
Hello friends,
It's a whole NEW YEAR and a whole NEW BEGINNING. 2009 is here and I am very excited to announce that my first video for the "Sabre Dance" song from the "New Beginning" album will be released next week, you can check it out MY OFFICIAL WEBSITE, here on my MYSPACE PAGE, or MY YOUTUBE channel.
I feel that 2009 is going to bring me closer to what I am working towards since childhood – to be able to share my music with broader masses but market-wise I can't predict anything… I think it's how you position yourself and who you work with but no matter what I will always continue to work on my craft as a professional musician (singing, writing songs, producing, piano, guitar, composing, dancing etc….) keeping my standards high. And since there will always be people who gravitate towards music that makes them feel or think and others that want to stay numb - my mission will be to reach those who don't know what it's like to feel the music and continue making music for those who enjoy the emotional rollercoaster that you achieve from music and art in general.
This making of this video was a lot of hard work and a long process in the making. I wrote the song with many elements in mind. With "Sabre Dance" this song represents me as a musician, stylistically and more so when you look at all of fundamentals of music and what I am about. Since my background is classical music it was nice to be able to incorporate my love for this genre within a rock song in a contemporary way that really displays both sides of my music, rock/classical.
I've decided to make the first break-out video for this particular track called "Sabre Dance" for couple of reasons: first of all it's an upbeat and fun song, I was able to do some dancing, play an instrument and I relate with the character of this song very much. It's playful, it's eclectic - there's a little bit of dance beat, some rock and a classical sample from the "Gayane" ballet by Aram Khatchatrian and I didn't change the name of that sampled part – this song carries the original title "Sabre Dance."
Visually in this video I hope my fans will see the other side of me, the fun side and not only the serious concert pianist and heartbreaking ballad singer/songwriter (though you will be seeing some more of that this year, too). I have many goals and plans for this year and I am excited to share all of them with you.
I had so much fun working on the choreography because dancing is my passion and I've been studying dance professionally since childhood. Also I had a blast playing this sexy vixen character and simply just being me, performing on the stage with my band…
There were many challenges – creatively I couldn't go too crazy and make a movie like video so we tried to keep it simple but interesting and full of energy. Mentally I was stressed for so many reasons but mostly because I am a perfectionist and everything I do I feel stressed till it's done completely the way I pictured from the beginning. And I wasn't just acting solely just artist, besides performing – I was involved in the production process from day one being my own stylist, making clothes from the scratch, scheduling meetings, rehearsals, etc… Physically it was strenuous because no matter how tired and exhausted I was I had to deliver a high energy playful performance and look great in front of the camera after days and hours of performing and dancing. It definitely made me stronger, I learned how mentally push myself further but gain more energy. Making this video was a terrific learning experience, about the production of the video, communication with the director and crew, planning every single detail and so on.
I will be posting bulletins next week for when the SABRE DANCE video will finally be ready for you to see but for now, I am sharing with you the journey, "The Making of Sabre Dance" and this long process I've been creating to make this happen.
I want to thank all of you for all your support – your friendship means so much. Your kind comments and notes are a big part of this process to pull me through each day that is challenging - you bring a smile to my face. When the work gets hard, I just keep working harder – it's your support that helps to pull me through, knowing you are there. I appreciate your supporting me and my music and 2009 will have me bringing to you, more of my music as I continue this journey….
All the best
~ Sonya

09.06.08 - Whispering Souls

Dear Friends, I decided to write this blog mainly because I finished my latest song called Whispering Souls and since it's one of the most serious and important songs I have written so far, there are some thoughts I'd like to share with you, simply to get off my chest.
As a songwriter, as an artist, somebody who has constant craving to create something - I had this urge to write and speak out about wars, about genocide and any other act that involves people killing other people.
I guess it's in our DNA. And if you look back - the same thing has happened throughout decades and centuries. We have knowledge about ourselves. Human history is full of unnecessary wars and killings in the name of "God," "Race," "Beliefs," you name it - it's there.
The act of self-distraction is unreasonable, people/government/societies just create their "reasons." Didn't we learn something from our past? Time goes by and we are supposed to change, get better, improve and develop. We are here to constantly progress - to change our surroundings, create more civilized social structures which are part of evolution. But it looks like more of an equilibrium or degradation.
Is it a biological defect? No - I don't think so… The conflict of our belief systems is understandable – that's how we grow and get to know each other without destroying ourselves.
My family was affected by genocide on both sides and there are millions like me through out the world. I believe that one person can change the world but others will try to prove me wrong… but we are like each drop of water that together makes the ocean, each of us plays a significant role in the making of this "ocean" so let's speak up, care more for each other, play our part in making the world a better place.
I invite you to share your thoughts here or continue deeper discussion with me at my new group Sonya Kahn's Speak Out Symphony (SKSOS)
Love,
Sonya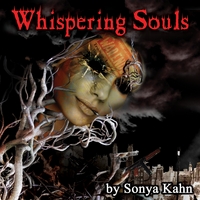 ----------------------------------------------------------------------
07.24.08 - Photo shoot with Brian To

Hey everyone :) Some new images are added to my photos from the latest photo shoot with Brian To. It was a pleasure to work with this team - photographer Brian To is amazing and such a nice person. Also the makeup artist Eleanor Sabaduquia is highly skilled and fun to work with. Their websites are listed on my links page so you can check them out!
Love,
Sonya

----------------------------------------------------------------------